Ride-Sharing is now a popular transportation system in Bangladesh. Kilometers after kilometers when cars are stuck in traffic. Then the motorcycle is passing the passenger quickly. Imtiaz Kashem introduced it. He launched the world's first motorcycle ride-sharing 'Share a Motorcycle' (SAM) app. That was on May 8, 2016, in the capital Dhaka. On that day, 'Ride-Sharing on a Motorcycle' was announced by the 'Sam' app for short. Now let's get to know about this system clearly.
Ride-Sharing App In Bangladesh
Many companies in Bangladesh are currently conducting business based on mobile phone applications, including Uber, Pathao, Sohoz, Let's Go Rider, Ezzyr, Dako Ride, Dhaka Moto, etc. You can start with any of the options mentioned. The registration process for all companies is almost the same. You have to install the application of the mentioned company and register as a service provider. In this case, some companies check fitness, license, and other bike or motorcycle issues. They only accept passers as their service providers.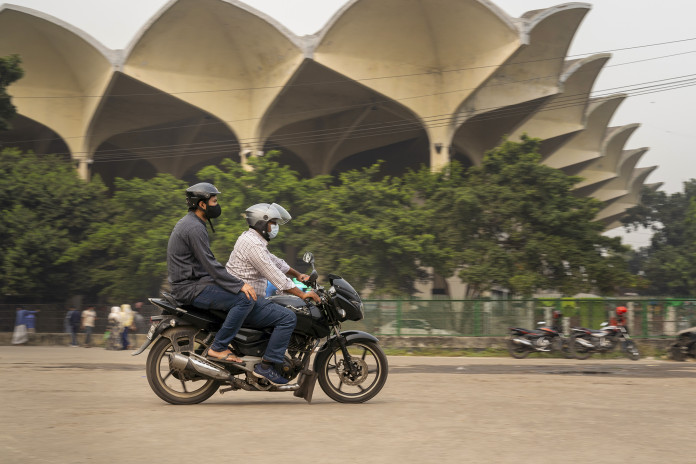 Registration Process As A Rider
Now come to know the registration process system of ride-sharing. Ride-sharing service providers must submit an "Enlistment Certificate," and motor vehicle owners must submit a "Ride Sharing Motor Vehicle Enlistment Certificate." These certificates can be found on BRTA's own website. BRTA will issue or revoke their license online after verification and selection of their application. One lakh enrollment fee and trade license, ETIN certificate, VAT, and other necessary documents, have to be submitted along with the application form. The validity of this certificate is one year.
The license can be renewed with a fee of Tk 10,000 three months before the expiration date. However, if this certificate is lost or any change in the information is to be paid, one thousand rupees. In addition to the motor vehicle enlistment certificate, the motor vehicle's required documents such as driving license, registration certificate, fitness certificate, tax token, copy of national identity card of both owner and driver, and TIN certificate of the owner of the vehicle must be submitted. The validity of this certificate is three years. At the end of the term, a motorcycle can renew this certificate for 500 TK and a car for 1000 TK. If this certificate is lost, a fee of one thousand rupees has to be paid. You have to pay 500 TK for correction.
Requirements and Policy
Now come to know the requirements and policy about the system. This is a great blessing for those who are still unemployed or have not yet found a suitable job.  If you are also interested in it, you can start the job. You can start this honorable profession by using a new or old motorcycle and a smartphone. It is important to remember that you must have a smartphone and a bike before starting the job. If you don't have enough money to buy a bike, you can buy an old bike. If you want to start with a new motorcycle, you have to count 60,000 to 130,000 TK. And if you want to master a used motorcycle, the cost will be further reduced. Before expecting this job, you need the necessary preparation or equipment-
A bike or motorcycle.
Motorcycle update license.
Motorcycle driving license.
Personal safety equipment (helmet, safety boots, goggles, appropriate clothing).
Have to know the fundamental use of a smartphone and the Internet.
Bike safety equipment.
Skilled bike riding according to the situation.
Where to Ride?
Place selection is the most important part of riding. If you want to make the riding profession more profitable, you have to avoid crowded areas. Because traffic jam often occurs in a crowded area that can lose your time. You have to select the urban areas for riding; the urban area people are advanced than rural people, and they use riding services mostly than rural people. If you select an area for riding, then, of course, think about the road condition of this area.
Riding Advice
If you want to do a ride-sharing job, then you must have a complete idea about it. Before riding, you have to ensure the specific passenger, suddenly picking up a stranger in your vehicle is a risky affair. Don't ride on the risky road, because there might happen an accident. But if it is an emergency to ride that road, then you should ride there very carefully. It would help if you did not ride at midnight. It is maybe risky for you.
Other Facilities
Ride-sharing also provides some facilities. Although there is a rule to provide ride-sharing services with private vehicles, Pathao allows getting involved in this service by using its motorcycles. The company also has a 'bike financing program' for drivers to buy motorcycles in installments.
Uber, Pathao, Move, Sam, and many other motorcycles and car ride-sharing apps are being rented. Anyone can rent his personal car at any time if he wants. I hope that you got a complete idea about ride-sharing in Bangladesh from the article. If you think that I missed something in the article, then please inform me by commenting below. Moreover, if you need any further information about the topic, leave a comment in the comment box below. Please stay connected with our site to get any updated information. Thank you for staying with me in the long run.