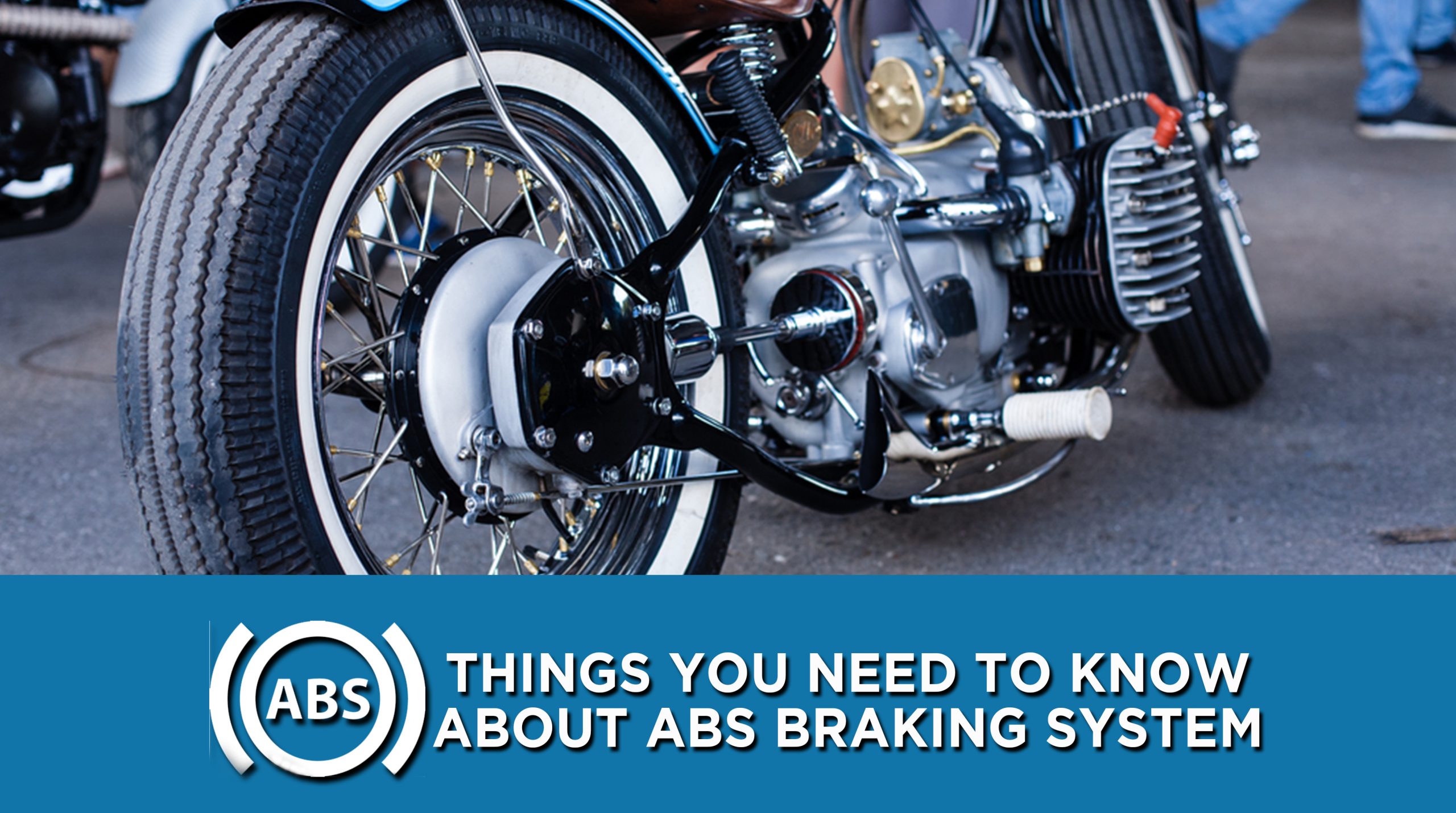 The full form of ABS is the Anti-lock Braking System. It is a system for safety that is used on motorbikes, buses, cars, trucks, and any other land vehicles. This system is also used on aircraft. ABS is used for managing the speed of vehicles. ABS is an automated system, and it uses the principles of threshold and cadence braking. The anti-lock braking system can prevent wheel lock under braking and also alter the front-to-rear brake bias. Please read the following discussion to know about ABS in detail.
What is ABS & How ABS Works
The Anti-lock Braking system is also known as an anti-skid braking system. It is a system that helps to prevent car and motorcycle wheels from locking up. It also improves steering control of braking. French pioneer Gabriel Voisin first developed the ABS in 1920. The Anti-lock Braking System helps to control traction. A typical anti-lock braking system has four major components which are:
Speed sensors
Valves
Pump and
Controller
In heavy braking situations, ABS works by releasing and pumping the brakes to a motorcycle wheel. There are many sensors in wheels, and they are used to locking. When a wheel stops moving, then the sensors start to skid. But all ABS systems are not the same. When the sensor detects locking, Anti-lock Braking System pumps the brakes, 100's of times in a second. this stop helps a driver to keep the vehicle under control. Normally, ABS works in three stages. Those are:
The brake pedal is pushed.
Wheel sensors detect skidding or 'locking' and
ABS pumps the brakes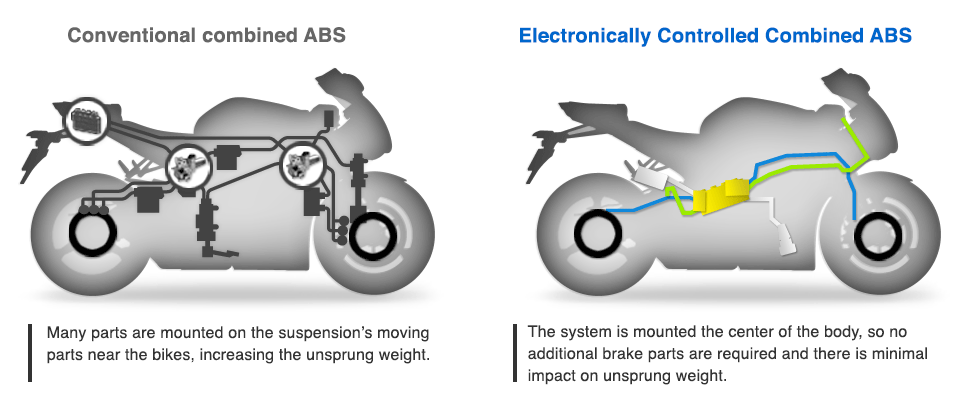 Anti-lock braking system Types
The anti-lock braking system has three basic types. These are four-sensor, three-sensor, and one-sensor. The best type is the four-sensor system.
Four-sensor system:
The four-sensor system is the best option. By pulsing only the affected wheel, it can micromanage brake action in a skid.
Three-sensor system:
There has two ABS sensors in the front and one in the rear in the three-sensor system. In the axle housing, the rear Anti-lock Braking System sensor is located. It affects both rear brakes.
One-sensor system:
Normally, a one-sensor system is used on trucks with rear anti-lock brakes. It works with a single ABS sensor in the rear axle housing. One-sensor system is the rear anti-lock brake only.
Advantages Of ABS Braking System On Motorcycle
Motorcycles which have an anti-lock braking system, are becoming more popular over the world. It makes your journey safe. So, undoubtedly there have so many advantages of ABS on the motorcycle. By locking and your tires from skidding, ABS prevents your motorcycle brake. It works in the same way as the normal brake. But when ABS is engaged, the braking of your motorcycle will happen more quickly. It ensures the highest safety of driving and reduces the percentage of accidents. So Anti-lock Braking System on motorcycles has surely more advantages from the motorcycles without ABS.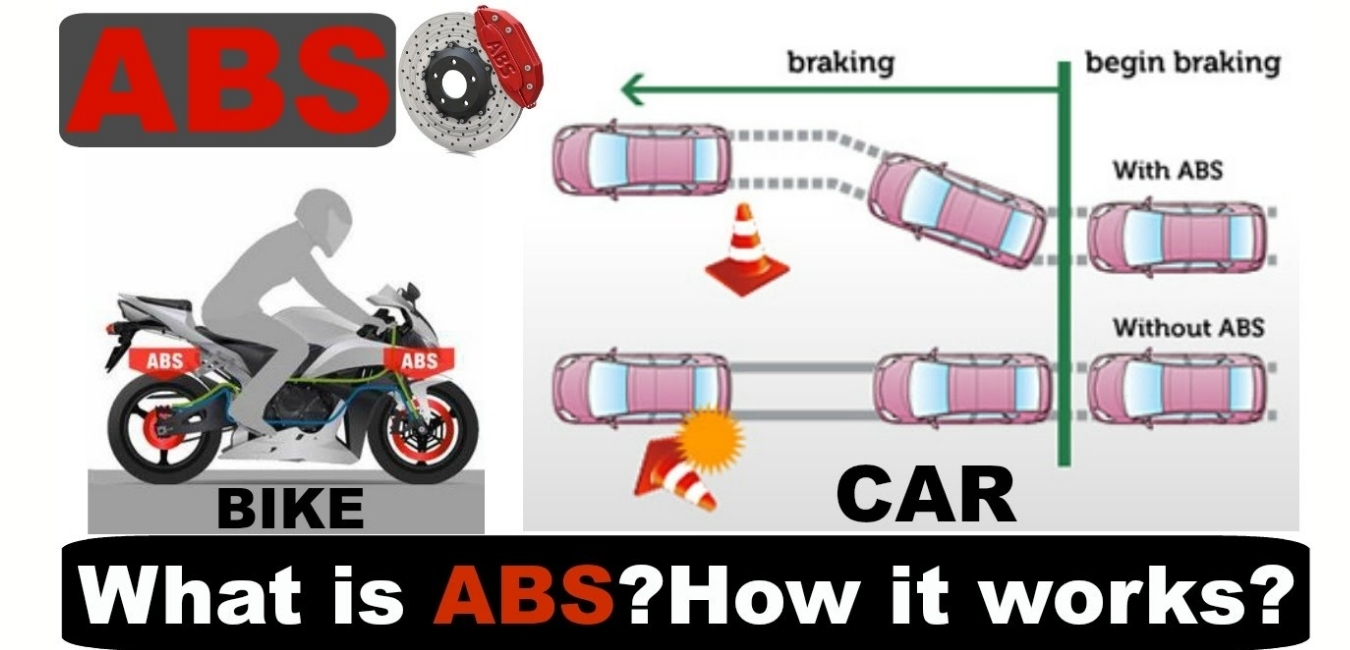 ABS Bikes In Bangladesh
from the above discussion, we can say that the ABS is a much-needed system for a motorbike. It makes your drive safe. So, nowadays, motorcycle brands had started launching ABS bikes in Bangladesh. Many motorcycles have an ABS in Bangladesh. Here we are going to make a list of motorbikes of Bangladesh with the ABS system. Look for the following list.
| | |
| --- | --- |
| Bike | Price In BDT |
| Honda CB150R ExMotion | 575,000/- |
| Yamaha NMax 155 | 495,000/- |
| Yamaha FZs Fi V3 | 295,000/- |
| Honda CBR 150R 2019 Edition | 500,000/- |
| Suzuki Intruder | 325,000/- |
| Taro GP 1 Special Edition | 330,000/- |
| Aprilia RS4 125 | 575,000/- |
| KTM Duke 125 | 599,000/- |
| KTM RC 125 | 600,000/- |
Here we add some data about the ABS system. We also added how Anti-lock Braking System works and the types of ABS. This information was taken from a valuable website. We always wanted to add accurate data. After that, there has any wrong; please inform us the right one by your comment on the comment box. Stay with us for the next update.